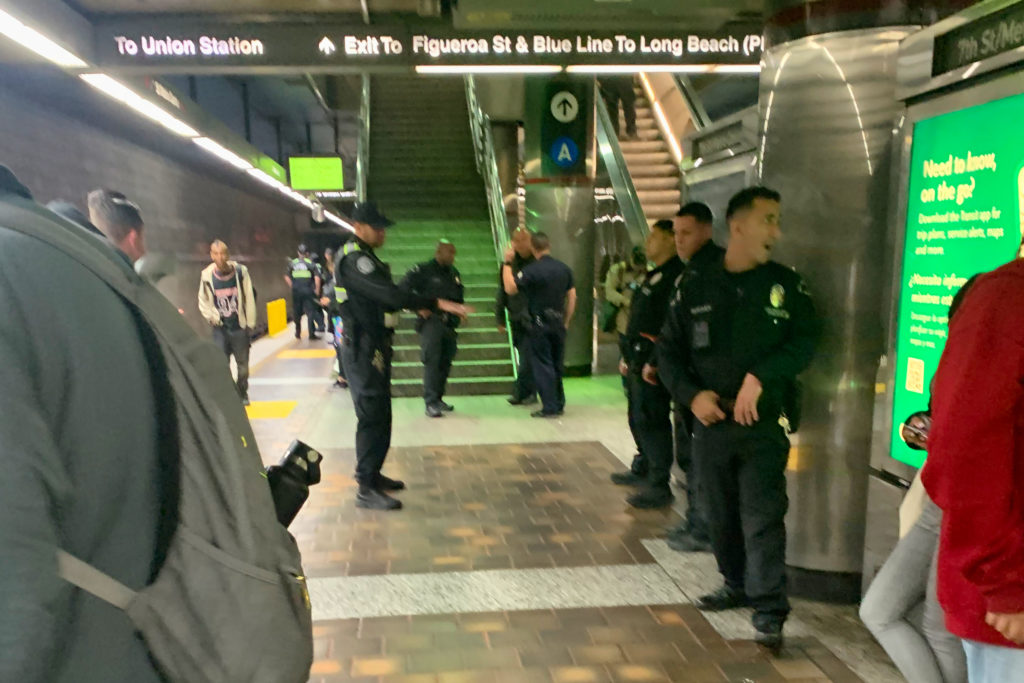 By SAJE's Built Environment and Transit Team
June 28, 2023
On June 22, LA Metro's Board of Directors instructed the agency to prepare a comprehensive implementation plan to establish an in-house police department. This decision to begin drafting a plan without further deliberation and study is troubling, and we believe LA Metro is headed in the wrong direction.
 LA Metro is trying to solve a real and important problem: they are currently diverting more than $175M per year from their operations budget into contracts with the Los Angeles County Sheriff's Department (LASD), the Los Angeles Police Department (LAPD), and the Long Beach Police Department (LBPD), and this money has not been well spent. In January 2023, the Office of the Inspector General reported on their audit of these contracts, calling for a more transparent and effective approach to using sheriffs and police officers and outlining the agency's inability to establish a comprehensive and clear strategy for patrols or benchmarks for job performance and accountability. Then, in November 2022, LA Metro reported that their ridership had decreased in large part because riders feel unsafe on buses and trains in spite of the hundreds of millions of dollars spent on security and policing.
And yet the agency has continued to pour money into an approach to security that is not working. And now, in attempting to establish an in-house police force to reduce dependence on law enforcement contracts, LA Metro is unnecessarily duplicating a police response that is already covered by local patrols. In fact, the recent bus operator attack in Woodland Hills showed that non-contracted emergency responders were then, and often are, the closest and most appropriate personnel to respond to tragic incidents on LA Metro. 
Rather than spend hundreds of millions of dollars to form its own police department, LA Metro should use a shared service model that relies on the emergency response resources that already exist. In this model, each public agency can execute their mission without inter-agency contracts or in-house departments that create duplicative services or geographic coverage. LA Metro already coordinates emergency fire and medical services using a shared services approach, and they can and should apply the model to law enforcement. This would keep the agency focused on what they were formed to do in the first place: provide robust and accessible public transportation services to all Angelenos.
More importantly, this approach would free up LA Metro to invest its large public safety budget into proven, unarmed safety systems and improved bus service, as was recommended by the agency's own Public Safety Advisory Committee. This means creating and maintaining clean, well-designed, well-lit stations and stops. It also means funding unarmed Transit Ambassadors who can intervene in incidents where mental illness, addiction, or homelessness is a factor, connecting vulnerable riders to social services rather than jail. Ultimately, it means making transit fareless to increase ridership and put more "eyes on the system." This would have positive effects on both safety and the perception of safety for riders who would no longer have to wait alone for a bus during off-peak hours or traverse an empty subway station at night. It would also eliminate fare disputes like the one in Woodland Hills mentioned above. According to a study commissioned by the Federal Transit Administration to improve safety for transit workers, the majority of violent incidents on public transportation are assaults on bus drivers caused by fare disputes.
You can read more about alternative safety strategies in the ACT-LA report Metro as Sanctuary: Reimagining Safety on Public Transit. And you can learn more about fareless transit in our recent report The Road to Equity: The Case for Universal Fareless Transit in Los Angeles.