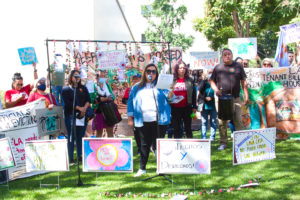 ---
July 28, 2022 / El 28 de Julio de 2022
By Dalyn Smith and Nisha Vyas, Western Center on Law and Poverty /Por Dalyn Smith y Nisha Vyas, Western Center on Law and Poverty
[Escrito en Español Abajo]
On June 24, 2022, the United States Supreme Court announced its decision in Dobbs v. Jackson Women's Health Organization, asserting that there is no federal constitutional right to abortion. By overturning Roe v. Wade and Casey v. Planned Parenthood, the Court turned the clock back on reproductive care by nearly 50 years. But long before Dobbs, we were falling short of true reproductive justice. 
Organizations devoted to reproductive justice have long focused not only on questions of the legality and criminality of abortion, but also on access to reproductive care and its intersection with other justice movements. SisterSong, for example, defines reproductive justice as "the human right to maintain personal bodily autonomy, have children, not have children, and parent the children we have in safe and sustainable communities."
In other words, reproductive justice is inextricably linked to housing justice. Safe and sustainable communities are undermined by the lack of safe and affordable housing due to unchecked real estate speculation, rising rents and evictions, and unhealthy environmental conditions. Unhoused people and families who lack housing stability are routinely unable to access reproductive and other types of health care, and individuals experiencing homelessness tend to have higher percentages of unplanned pregnancy. In fact, almost 75 percent of pregnancies amid unhoused birthing people are unintended, even though the national average is only 45 percent. Whether this is attributed to unaffordable contraceptives, an inability to obtain health insurance, or the increased probability of experiencing sexual violence, unhoused people are more susceptible to the ills of reproductive injustice. This is particularly true for our unhoused youth, who have difficulty applying for health insurance as minors or even consenting to their own medical care. 
Additionally, due to the uncertainties that accompany housing insecurity, unhoused parents are often unable to raise their kids in safe communities and provide them with what developing youth need most—stability. Here, we see that a conditional element of SisterSong's definition of reproductive justice—safe and sustainable communities—is missing. When unhoused people experience pregnancy and parenthood, they have significantly less family planning options and more limited access to quality reproductive care when compared to those who are better off financially. 
Low-income housed populations also lack access to reproductive care in comparison to the wealthy. The costs of basic survival can be out of reach without factoring children into the equation. Having the ability to intentionally plan their family can be the deciding factor between an individual's ability to maintain secure housing for them and their loved ones, or enduring housing insecurity. 
There are also significant racial disparities in access to both housing justice and reproductive justice. In the U.S., Black and Latino persons are less likely to own a home compared to their white counterparts. The 2019 U.S. Census found that only an estimated 40 percent of the Black and Latino communities owned a home, while over 60 percent of the white community were homeowners. Due to wage discrepancies and racially discriminatory lending practices that exacerbate the wealth gap, Black and Latino residents are also more likely to spend a higher percentage of their income on rent. The incompatibility of earned wages and skyrocketing rent prices contributes significantly to Black people being overrepresented among the unhoused population. 
The same race-based discrimination that keeps Black and Latino individuals from obtaining permanent housing also contributes to the lack of quality reproductive care experienced by non-white birthing people. People of color are at a disproportionate risk of inadequate reproductive care due to inaccessibility of services, lack of insurance coverage, and the implicit bias of physicians that amplifies structural racism. Unfortunately, people of color—specifically Black individuals—are most in need of reproductive health care coverage. A study released earlier this year revealed that Black birthing people have higher rates of unintended pregnancy and abortion, are more likely to contract a sexually transmitted infection than their white counterparts and have higher rates of preexisting conditions that make them more vulnerable to reproductive complications.
So how do we protect individuals existing at the intersection of housing and reproductive injustice? Certainly, we must fight for the federal constitutional right to bodily control and autonomy, including the constitutional right to abortion. We must also enshrine this right in state constitutions. Beyond the question of rights, we must also fight for fully funded access to reproductive and health care generally. At the same time, we must fight for a right to housing, meaning a right to safe and affordable housing in communities of a family's choice. 
Our work requires thinking about the whole community, not simply the number of housing units. We must ensure that reproductive and other health care is accessible to every community without financial or administrative barriers, and in proximity to where people live. To do this, we must make and deepen connections in our advocacy. For example, underscoring the link between reproductive and housing justice, California Latinas for Reproductive Justice is a key participant in a campaign for rent control and just cause evictions in Southeast LA cities.
In sum, we need to think beyond simply what is legal in a formal sense and devote our energy to what will meaningfully increase access to reproductive care. This includes equitable access to housing, housing stability, and healthy neighborhoods.
Dalyn Smith is an intern at Western Center on Law and Poverty. She is a rising senior at the University of Southern California.
Nisha Vyas is a Senior Attorney at Western Center on Law and Poverty working in the areas of housing and community development.
---
El 24 de junio de 2022, la Corte Suprema de los Estados Unidos anunció su decisión Dobbs v. Jackson Women's Health Organization, afirmando que no hay un derecho federal constitucional al aborto. Al anular Roe v. Wade y Casey v. Planned Parenthood, la Corte retrasó el reloj en el cuidado reproductivo por casi 50 años. Desde mucho antes de Dobbs, no estábamos logrando alcanzar una verdadera justicia reproductiva. 
Las organizaciones dedicadas a la justicia reproductiva se han enfocado por mucho tiempo no solamente en preguntas sobre la legalidad y la criminalidad del aborto, sino también sobre el acceso al cuidado reproductivo y su intersección con otros movimientos de justicia. SisterSong, por ejemplo, define la justicia reproductiva como "el derecho humano a mantener la autonomía personal del cuerpo, tener hijos, no tener hijos, y criar a los hijos que tengamos en comunidades seguras y sustentables."
En otras palabras, la justicia reproductiva está inextricablemente vinculada a la justicia en la vivienda. Las comunidades seguras y sustentables son debilitadas con la falta de vivienda segura y asequible debido a la especulación descontrolada de bienes raíces, el aumento en las rentas y los desalojos, y condiciones ambientales no saludables. Las personas y familias sin hogar que no tienen estabilidad de vivienda normalmente son incapaces de tener acceso a atención médica reproductiva y de otro tipo, y las personas que no tienen hogar tienen porcentajes más altos de embarazos no planeados. De hecho, casi el 75 por ciento de los embarazos entre personas sin hogar en edad reproductiva son no intencionales, mientras que el promedio nacional es de solamente el 45 por ciento. Ya sea que esto se atribuya a anticonceptivos no asequibles, a la incapacidad de obtener seguro médico, o la mayor probabilidad de experimentar violencia sexual, las personas sin hogar son más susceptibles a los males de la injusticia reproductiva. Esto es particularmente cierto para nuestros jóvenes sin hogar, que tienen dificultades para solicitar seguro médico como menores de edad o incluso dar su consentimiento a su propia atención médica. 
Además, debido a las incertidumbres que acompañan a la inseguridad de vivienda, los padres sin hogar muchas veces no pueden criar a sus hijos en comunidades seguras y proporcionarles lo que los jóvenes en desarrollo necesitan más: estabilidad. Aquí, vemos que falta un elemento condicional de la definición de SisterSong de justicia reproductiva –comunidades seguras y sustentables. Cuando las personas sin hogar experimentan embarazo y paternidad, tienen significativamente menos opciones de planeación familiar y un acceso más limitado a atención reproductiva de calidad si se les compara con aquellos que tienen una mejor situación financiera. 
A los pobladores que tienen vivienda y bajos ingresos también les falta acceso a cuidado reproductivo si se les compara con las personas de mayores ingresos. Los costos de supervivencia básica pueden estar fuera del alcance incluso sin incluir a los niños en la ecuación. Tener la capacidad de planear intencionalmente su familia puede ser el factor decisivo entre la capacidad de una persona para mantener una vivienda segura para ellos y sus seres queridos, o sufrir inseguridad de la vivienda. 
Hay también disparidades raciales significativas en el acceso tanto a la justicia de la vivienda como a la justicia reproductiva. En los EE. UU., las personas negras y latinas tienen menos probabilidades de ser propietarios de una vivienda comparados con sus homólogos blancos. El Censo de los EE. UU. de 2019 encontró que solamente un estimado del 40 por ciento de las comunidades negras y latinas eran propietarios de un hogar, mientras que más del 60 por ciento de la comunidad blanca eran propietarios de una casa. Debido a las discrepancias de sueldos y las prácticas de préstamos racialmente discriminatorios que agravan la brecha económica, los residentes negros y latinos tienen más probabilidades de gastar un porcentaje más alto de sus ingresos en la renta. La incompatibilidad de los salarios que ganan y el gran aumento de los precios de la renta contribuyen significativamente a que las personas negras tengan más representación entre la población sin hogar. 
La misma discriminación con base en la raza que impide a las personas negras y latinas obtener una vivienda permanente contribuye también a la falta de calidad en la atención médica reproductiva experimentada por las personas no blancas en edad reproductiva. Las personas de color tienen un riesgo desproporcionado de tener atención médica reproductiva inadecuada debido a la inaccesibilidad de servicios, falta de cobertura de seguros, y el sesgo implícito de los médicos que amplifica el racismo estructural. Desgraciadamente, las personas de color –específicamente las personas de raza negra– son las que tienen más necesidad de cobertura de atención médica reproductiva. Un estudio publicado a principios del año reveló que las personas negras en edad reproductiva tienen tasas más altas de embarazos no planeados y abortos, tienen más probabilidades de contraer una infección transmitida sexualmente que sus homólogos blancos y tienen tasas más altas de condiciones preexistentes que los hacen más vulnerables a complicaciones reproductivas.
Así que ¿cómo protegemos a las personas que están en la intersección de la injusticia de vivienda y la injusticia reproductiva? Ciertamente, debemos luchar por el derecho constitucional federal de controlar el cuerpo y su autonomía, incluyendo el derecho constitucional al aborto. Debemos también consagrar este derecho en las constituciones estatales. Más allá del asunto de derechos, debemos luchar también por que se tenga acceso financiado a la atención médica reproductiva y a la atención médica en general. A la vez, debemos luchar por el derecho a la vivienda, significando un derecho a vivienda segura y asequible en comunidades elegidas por la familia. 
Nuestro trabajo requiere que pensemos en toda la comunidad, no simplemente el número de unidades de vivienda. Debemos asegurar que la atención médica reproductiva y de otro tipo sea accesible para todas las comunidades sin barreras financieras o administrativas, y en proximidad a donde viven las personas. Para hacer esto, debemos realizar y profundizar conexiones en nuestra defensoría. Por ejemplo, al enfatizar el vínculo entre la justicia reproductiva y la justicia de la vivienda, California Latinas for Reproductive Justice es un participante clave en una campaña a favor del control de rentas y los desalojos por motivos justos en las ciudades del Sur de LA.
En resumen, necesitamos pensar más allá de lo que simplemente es legal en un sentido formal y dedicar nuestra energía a lo que aumentará significativamente el acceso a la atención médica reproductiva. Esto incluye un acceso equitativo a vivienda, estabilidad de la vivienda y vecindarios saludables.
Dalyn Smith es una becaria en el Western Center on Law and Poverty. Ella es estudiante de último grado en la University of Southern California.
Nisha Vyas es una abogada sénior en el Western Center on Law and Poverty, y trabaja en las áreas de vivienda y desarrollo comunitario.