September 19, 2022 / El 19 de Septiembre de 2022
By SAJE Equitable Development and Land Use Staff
[Escrito en Español Abajo]
On September 20, Los Angeles City Council will hear an appeal from a developer who is seeking to build a Marriott Hotel on a vacant 34,000-square-foot-parcel of land on Vermont Avenue in South Central L.A. The developer, Orion Capital, is challenging the city zoning administrator's insistence that the lot, which is public land, be reserved for projects that actually serve the neighborhood, such as "affordable housing, a youth center, or any other community serving uses."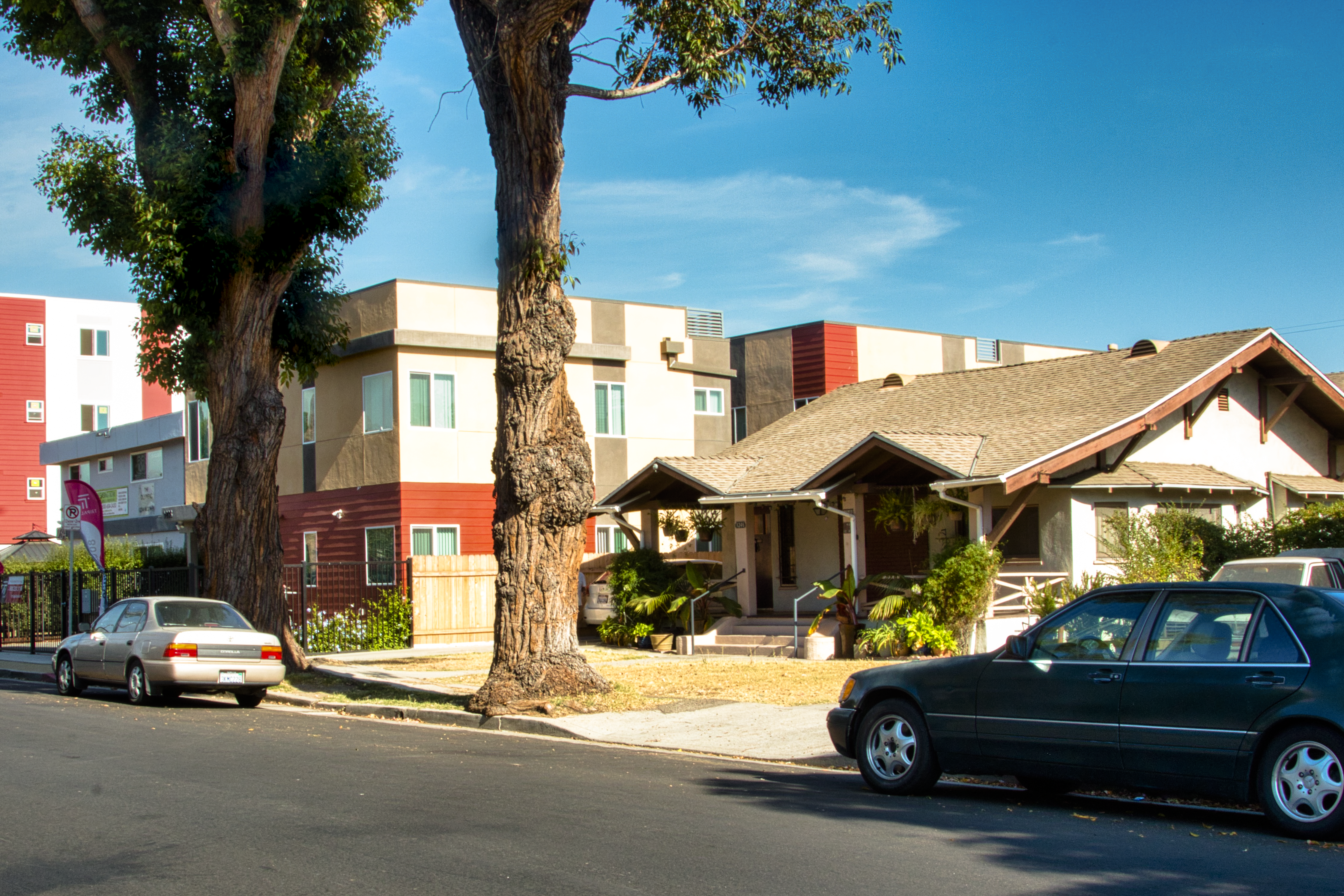 Above: Bethune vacant lot on Vermont Avenue. At top: Artist Charles White in front of his mural of Mary McLeod Bethune, created for the library in 1978.
The history of the lot is entwined with the community it has served: for decades, it was where the Bethune Public Library stood, a community resource named for Dr. Mary McLeod Bethune, a Black woman educator and civil rights activist who co-founded the United Negro College Fund. Ten years ago, the city promised that whatever would get developed on this important site would also "provide ongoing community benefits." Now they are breaking that promise. A Marriott will serve tourists who need short-term accommodations, and not the thousands of Angelenos who need permanent affordable housing.
Moreover, the transformation of this land from non-commercial to commercial use will do lasting damage to a community already beset by displacement and gentrification. Not only will a generic corporate hotel alter the character of the neighborhood, but the message it will broadcast to working-class families who are struggling to keep housed is: Los Angeles prioritizes corporate interests over your interests. Spot-zoning on this site also opens the door to even more corporate projects that serve narrow interests. 
South Central L.A. is in desperate need of affordable housing. We need to prioritize the community members who live here, not guests from far away. We should be honoring Dr. Bethune by keeping this publicly owned land for the public good rather than tarnishing her memory by building a generic corporate hotel at her namesake site.
Join us in letting the city know that they should reject Orion Capital's appeal and keep the publicly owned Bethune site for the public good. Scroll down to take action! 
---
El 20 de septiembre, el Concejo Municipal de Los Ángeles escuchará una apelación de un desarrollador que busca construir un hotel Marriott en un terreno baldío de 34,000 pies cuadrados en Vermont Avenue en South Central LA. El desarrollador, Orion Capital, está desafiando la insistencia del administrador de zonificación de que el lote, que es terreno público, se reserve para proyectos que realmente sirvan al vecindario, como "vivienda asequible, un centro juvenil o cualquier otro uso comunitario".
La historia del lote está entrelazada con la comunidad a la que ha servido: durante décadas, fue donde estuvo la Biblioteca Pública de Bethune, un recurso comunitario llamado así por la Dra. Mary McLeod Bethune, una educadora negra y activista de derechos civiles que cofundó la Fondo Universitario Negro Unido. Hace diez años, la ciudad prometió que todo lo que se desarrollara en este sitio "proporcionaría beneficios continuos a la comunidad". Ahora están rompiendo esa promesa. Un Marriott atenderá a los turistas que necesitan alojamiento a corto plazo, y no a los miles de angelinos que necesitan una vivienda asequible permanente.
Además, la transformación de esta tierra de uso no comercial a comercial causará un daño duradero a una comunidad ya acosada por el desplazamiento y la gentrificación. Un hotel corporativo genérico no solo alterará el carácter del vecindario, sino que el mensaje que transmitirá a las familias de clase trabajadora que luchan por mantenerse alojadas es: Los Ángeles prioriza los intereses corporativos sobre sus intereses. La zonificación en este sitio también abre la puerta a más proyectos corporativos que generalizarán el paisaje y servirán a intereses limitados.
South Central Los Angeles tiene una necesidad desesperada de viviendas asequibles; necesitamos priorizar las necesidades de los miembros de la comunidad que viven aquí, no las de los invitados que vienen de lejos. Deberíamos honrar a Bethune manteniendo esta tierra de propiedad pública para el bien público en lugar de empañar su memoria construyendo un hotel corporativo en el sitio que lleva su nombre.
Lo instamos a que informe a la ciudad que debe rechazar la apelación de Orion Capital y mantener el sitio de propiedad pública de Bethune por el bien público.
---
Here are ways you can take action / Aquí hay maneras en que puede tomar medidas:
Sign this petition that will be sent to city council / Firma esta petición

que será enviada al ayuntamiento.