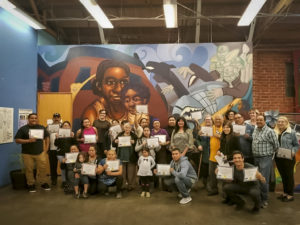 ---
November 2, 2022 / El 2 de noviembre de 2022
By Maria Patiño Gutierrez, Director of Policy and Research
[Escrito en Español Abajo]
Many of the practices SAJE fights—exclusionary development, the mistreatment of low-income tenants—rely on racist and elitist logic regarding who counts as a valid public subject. By organizing people to demand rights that they have in theory but are denied in practice, we upset tacit social structures predicated on rendering working-class people of color invisible or unworthy and excluding them from civic life. Case in point: We do not believe that only those with planning degrees should be making planning decisions in Los Angeles—which is why we launched our People's Planning School.
SAJE established the People's Planning School in 2007 to demystify
urban planning processes and get South Central Los Angeles residents involved in vetting development projects in their neighborhoods. Through workshops and discussions, participants learn the basics about zoning and land use, explore the built history of South Central and how policy can help mitigate displacement, delve into community plans and other models for influencing city planning, and critically examine recent initiatives such as Transit Oriented Development and Opportunity Zones. 
Our first People's Planning School was launched with the Figueroa Corridor Coalition for Economic Justice (now United Neighbors Defense Against Displacement, or UNIDAD) to help residents create their own community plans. The school brought activists from neighborhoods across the nation, including from Harlem in New York, the Hill in Pittsburgh, the Mission District in San Francisco, and Old Town/Barrio Logan in San Diego, to talk about how they worked with city governments, universities, and other developers to center economic justice in urban renewal efforts.
Since then, People's Planning School sessions have been instrumental in bringing community perspectives to the elected officials, commissions, and city and county staff who make planning decisions. In 2017, People's Planning School participants were instrumental in shaping the People's Plan, which pressed for the inclusion of equitable development and land use policies in the Los Angeles City Planning Department's South Los Angeles and Southeast Los Angeles Community Plans. Participants were asked, "What's your vision for development in your community?" They then put forth 11 principles for equitable development that reflected the needs of their neighborhoods and communities. Nearly 70% of their policies were included in the city's official community plans.
Our most recent People's Planning School, on October 5, focused on land use changes coming to South Central Los Angeles, including  the Slauson Transit Neighborhood Plan, the South LA Community Plan Implementation Overlay Zone, and the Metro Area Plan for Florence Firestone.
If you'd like to get involved in People's Planning School, reach out to info@saje.net. 
---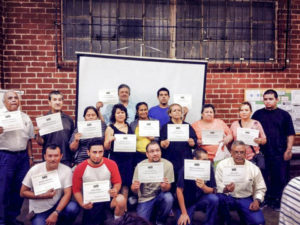 Muchas de las prácticas contra las que lucha SAJE (construcción exclusivista, el maltrato de inquilinos de bajos recursos) dependen de una lógica racista y elitista respecto a quién cuenta como un sujeto público válido. Al organizar a las personas para exigir los derechos que tienen en teoría pero les son negados en la práctica, alteramos las tácitas estructuras sociales que pretenden volver a las personas de la clase trabajadora invisibles o indignos, y excluirlos de la vida cívica. Caso de ejemplo: no creemos que solamente quienes han concluido estudios profesionales de planeación deberían estar tomando decisiones de planeación en Los Ángeles –y es la razón por la que iniciamos nuestra Escuela de planeación para el pueblo.  
SAJE estableció la Escuela de planeación popular para el pueblo en el 2007, para desmitificar los procesos de planeación urbana y hacer participar a los residentes del Sur Centro de Los Ángeles en la autorización de los proyectos de desarrollo en sus comunidades. Mediante talleres y discusiones, los participantes aprenden los puntos básicos de la zonificación y el uso de la tierra, a explorar la historia de la construcción del Centro Sur y cómo las políticas pueden ayudar a mitigar el desplazamiento, hurgar en los planes comunitarios y otros modelos para influenciar la planeación de la ciudad y examinar críticamente las iniciativas recientes tales como el Desarrollo orientado hacia el transporte público y las Zonas de oportunidad. 
Nuestra primera Escuela de planeación popular  fue iniciada con la Coalición para justicia económica del Corredor Figueroa (que ahora es Defensa de vecinos unidos contra el desplazamiento [United Neighbors Defense Against Displacement], o UNIDAD) para ayudar a los residentes a crear sus propios planes comunitarios. La escuela trajo a activistas de vecindarios de toda la nación, incluyendo Harlem en Nueva York, Hill en Pittsburgh, el Distrito Mission en San Francisco y Old Town/Barrio Logan en San Diego, para hablar sobre cómo trabajaron con los gobiernos de la ciudad, las universidades y otros desarrolladores para centrar la justicia económica en los esfuerzos de renovación urbana. 
Desde entonces, las sesiones de la Escuela de planeación popular han sido instrumentales en traer perspectivas comunitarias a los funcionarios electos, las comisiones y al personal de la ciudad y del condado que toman las decisiones de planeación. En el 2017, los participantes de la Escuela de planeación para el pueblo fueron cruciales en la creación del Plan Del Pueblo, que presionó por la inclusión de un desarrollo equitativo y políticas de uso de terreno en el los Planes del Departamento de Planeación de la Ciudad de Los Ángeles para las comunidades del Sur de Los Ángeles y el Sureste de Los Ángeles. Se preguntó a los participantes: "¿Cuál es su visión para el desarrollo en su comunidad?" Luego ellos presentaron 11 principios para el desarrollo equitativo que reflejaban las necesidades de sus vecindarios y comunidades. Cerca del 70 % de sus políticas fueron incluidas en los planes comunitarios oficiales de la ciudad.
Nuestra más reciente Escuela de planeación , el 5 de octubre, se enfocó en los cambios de uso de terreno que vienen al Sur de  Los Ángeles, incluyendo el Plan de vecindario de transporte público Slauson, la Zona de superposición de implementación del plan comunitario del Sur de LA y el Plan del área metropolitana para Florence Firestone.
Si le gustaría participar en la Escuela de planeación para el pueblo, contáctenos en info@saje.net.