If this site is useful to you, we hope you'll consider a donation to support our work to make local government accessible and accountable via LA Accountability Fund on ActBlue.
Other options
LA County Board of Supervisors
Click the images above for access to more information and detailed district maps.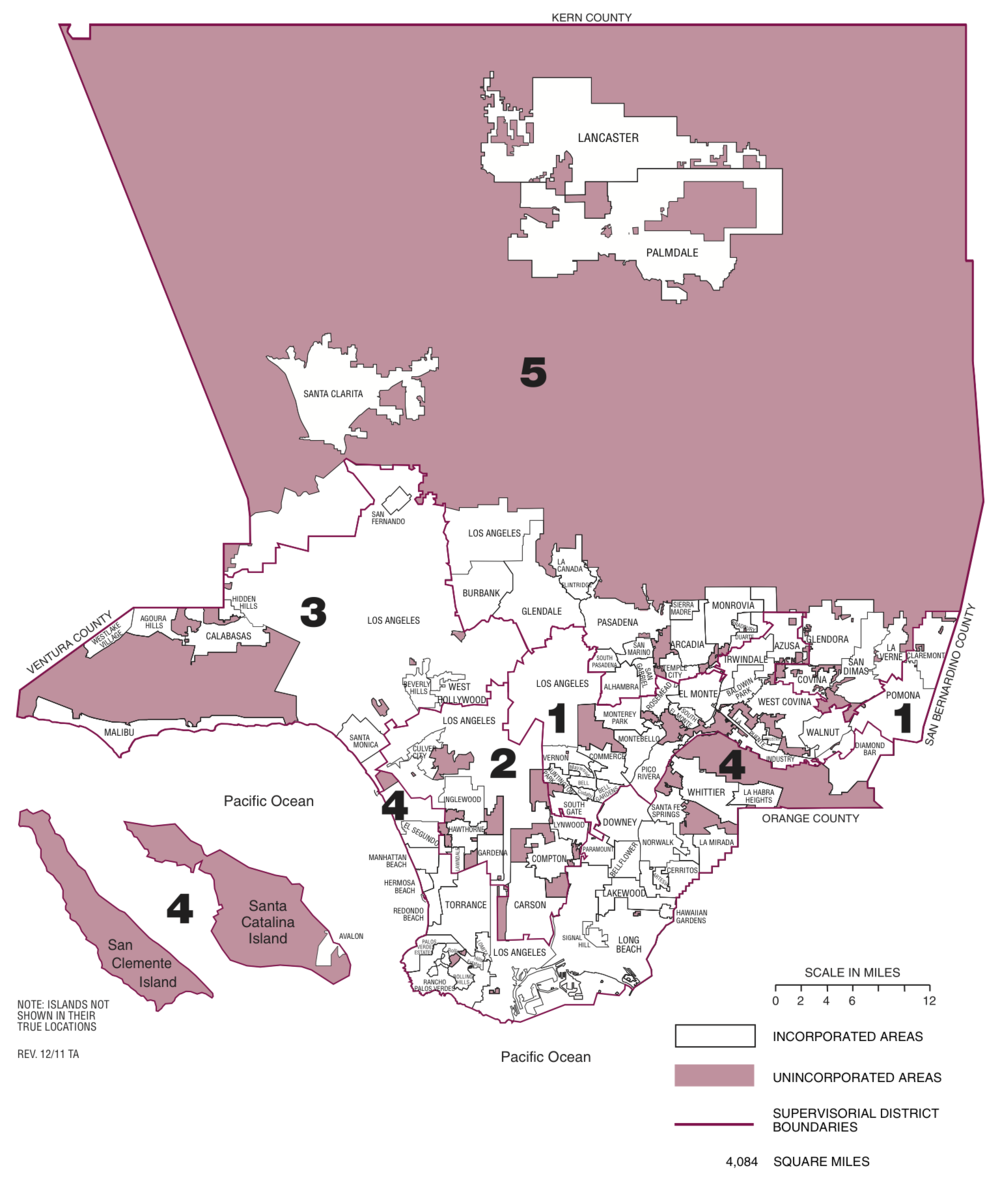 Metro Board
The 13 members of the Metro Board oversee the the Los Angeles County Metropolitan Transportation Authority. These members include LA City Mayor Eric Garcetti, LA City Councilmembers Mike Bonin and Paul Krekorian, all five LA County Supervisors (Solis, Ridley-Thomas, Kuehl, Hahn, Barger), representatives from the other 87 cities in LA County such as James Butts of Inglewood, Robert Garcia of Long Beach, and several other appointees of the Mayor, Governor, and regions.
You can find more info on the members and how to contact them at https://boardagendas.metro.net/board-members/
From the agency's website: "Metro is unique among the nation's transportation agencies. We serve as transportation planner and coordinator, designer, builder and operator for one of the country's largest, most populous counties. More than 9.6 million people – nearly one-third of California's residents – live, work, and play within our 1,433-square-mile service area."
LA City
The City of Los Angeles is the second largest municipality in the country, with approximately 4 million residents. There are 87 other cities in the County of Los Angeles, such as Santa Monica, Beverly Hill, Culver City, West Hollywood, Lancaster, Monterey Park, Torrance, Compton, Long Beach, Pico Rivera, Whittier, Monrovia, and many more.
LA City is governed by a Mayor and a 15 person City Council, who are elected from geographic districts depicted in the map below. The City also elects a City Attorney and a Controller.
District 1 — Gilbert Cedillo
District 2 — Paul Krekorian
District 3 —  Bob Blumenfield
District 4 — David E. Ryu
District 5 — Paul Koretz
District 6 — Nury Martinez
District 7 — Monica Rodriguez
District 8 — Marqueece Harris-Dawson
District 9 — Curren D. Price, Jr.
District 10 — Herb J. Wesson, Jr.
District 11 — Mike Bonin
District 12 — John Lee
District 13 — Mitch O'Farrell
District 14 — Jose Huizar
District 15 — Joe Buscaino
Mayor: Eric Garcetti
City Attorney: Mike Feuer
Controller: Ron Galperin
You can find more information and ways to contact your elected officials in the City of LA at https://www.lacity.org/your-government/elected-officials/city-council/council-directory